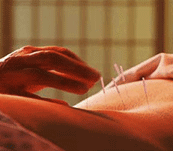 Acupuncture / Traditional Chinese Medicine (TCM)
Increasing Energy Flow, Establishing Balance & Creating Internal Harmony
TCM (Traditional Chinese Medicine) is an ancient healing art founded nearly 4,000 years ago in the Buddhist monasteries of China and Tibet. It integrates spiritual beliefs with theories of life-force and bio-energetics, Qi ( or Chi, pronounced "chee"). The priests treated members of their communities with herbs, animal products, acupuncture, cupping (pressure cups applied to the back), and moxabustion (a warming herb that is 'smoked' along meridian points). Needle acupuncture (insertion of thin, sterile needles along energy points of the body) evolved from a discernment of energy meridian points along the skin's surface that correlates with organs such as the lungs, liver, stomach and kidneys. All forms of body disharmony, illness and disease are effectively treated by restoring harmony to the qi along the meridians and thus healing organs and body systems.
Western medicine is currently researching the ways in which TCM and acupuncture actually work. Modern science has developed the technology to detect and measure the subtle bio-energy and confirm the acupuncture points along the meridians. Although this research is still ongoing, Western medicine has acknowledged the positive health effects of TCM, particularly needle acupuncture.
According to TCM, the meridians traverse all tissues and organ systems of the body. As a result acupuncture can affect all aspects of health.
At Community Chiropractic & Acupuncture located in Park Slope, Brooklyn 11215, acupuncture treatment is provided for musculo-skeletal conditions including:Repetitive stress injuries such as CTS (Carpal Tunnel Syndrome from clicking the computer mouse)Sports injuries involving nerves, muscles, joints, discs, ligaments, and tendonsTrauma due to work accidents, motor vehicle accidents or personal injuries
Dr. Thomas, a Brooklyn Chiropractor & Acupuncturist helps treat disorders of bodily systems, including:Digestive system treatment (irritable bowel syndrome (IBS); constipation; acid reflux; bloating and gas)Respiratory system treatment (colds; flu; asthma; allergies; sinusitis)Reproductive system (premenstrual syndrome (PMS); infertility; menopausal complications; dysmennorhea)Emotional disturbances (post-traumatic stress disorder (PTSD); depression; anxiety)Aging (arthritis; memory loss; motor and sensory changes)Behavioral (smoking cessation; eating disorders)