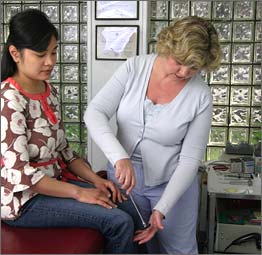 Treatments at Community Chiropractor and Acupuncture located in Park Slope, Brooklyn 11215
Working with the tools of both Eastern and Western medicine, Dr. Thomas establishes a diagnosis and treatment plan designed specifically for each individual.
During each visit, primary health concerns are treated – concerns such as back pain and neck pain, organ disharmony, or emotional distress. At the same time, your goals for optimal health will be addressed by using treatments to balance your "Qi" (chi), increase nutritional awareness, modify exercise routines, and re-establish harmony of body, mind, and spirit.
Treatment plans may include a combination of the following techniques:
Many of these services are covered by insurance.